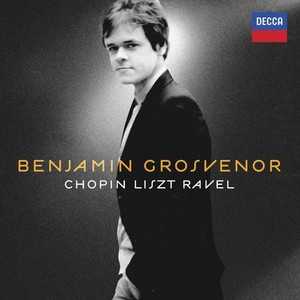 Benjamin Grosvenor's highly anticipated first CD on Decca is issued in the UK on Monday July 11. The young pianist, who turned 19 a few days before the release, continues to play with the brilliant technical facility and musical maturity that captured attention when he won the Piano section of the BBC Young Musician Award at age 11 in 2004.
With only one previous CD, 'This and That' – a compilation that was not widely distributed (it was released on the B&W Online Music Club before being reissued on Grosvenor's own label Galton Productions) – Grosvenor now has the potential to reach the kind of audience that this level of artistry warrants thanks to his exclusive contract with Decca. If this current disc is anything to go by, there will be some great performances coming our way. Decca's promo video for the album, with some interesting statements from the pianist and clips of his playing (it is a bit unfortunate that they show the end of Scarbo as opposed to another section), shows the label's great interest in promoting the first British pianist to sign to the label since Moura Lympany and Clifford Curzon.
The current program bridges Chopin and Ravel via Liszt – brilliant programming, as Liszt was a true link between the other two composers of groundbreaking piano music. Grosvenor delivers Chopin's Four Scherzi in non-sequential order and interspersed with Nocturnes (the kind of programming Lipatti would do). Two Chopin songs arranged by Liszt lead into a seldom-played Liszt work, En Reve, before Ravel's legendary oeuvre Gaspard de la Nuit closes the program.
Grosvenor is a pianist who grasps the full spectrum of Romantic sensibilities: the music from this era is not all moonlit dreams and fields of flowers, and as some recordings by some of the legendary pianists of the 19th century demonstrate, there are darker undertones in the music of Chopin and Liszt. Grosvenor does not shy away from nor inappropriately highlight any of these qualities. Melodic lines are clearly shaped, harmonic shifts are attended to with care, tonal quality is never ignored: he can play a grand fortissimo without breaking the tone, and clearly articulate a pianissimo where his hands barely seem to touch the keys yet his tone is still full. He will occasionally play with less pedal than is the norm, which is not only entirely appropriate but also in keeping with recorded evidence of the golden age pianists. Conventional listeners may be too dazzled by his virtuosity to notice such nuances, while others may be startled by his boldness, but this is of little importance: Grosvenor's style is thoroughly musical and grounded in authentic Romantic tradition.
In the First of the Scherzi, he beautifully balances lyrical passages with a wilder approach to the runs that is nevertheless never less than sensitive, whereas one of the highlights of the Second is his voice-leading in the middle section, quite different from the norm, with rhythmic figurations complementing rather than being part of the primary melodic line. The glittering cascades in the Third are as dazzling as could be expected, with a warm glow and surrounding melodic subjects perfectly poised, and the runs in the Fourth are stunningly nuanced with marvelous pedal control, while the middle section features some masterful highlighting of inner voices.
In the three Nocturnes he presents, Grosvenor avoids lapsing into the sentimentality that is part of the artistic downfall of so many artists his age. The 95-year-old Hungarian pianist Livia Rev recently stated that so many young musicians try to communicate emotions that they haven't felt yet and we can sense it right away. This is not the case here, and it is not just the technical side of Grosvenor's performances that is arresting but its mature emotional content: there is an emotional breadth that can be breathtaking. His timing is impeccable, his phrasing architecturally balanced, his dynamic range bolder than the average seasoned pianist.
The three offerings by Liszt – arrangements of two Chopin songs and his own En Reve – give Grosvenor more opportunities to demonstrate how virtuosity and musicality need not be antithetical to one another. The Maiden's Wish is particularly captivating, with extra runs that are fully in keeping with the Romantic tradition of pianism of which Grosvenor seems to be a proponent.
Gaspard is not only a supremely challenging work for the hands, but conceptually it is frequently misunderstood. While many conservatory students older than Grosvenor will choose the work as a showpiece, he enters deeply into the essence of the work and delivers magnificently. Ondine shimmers seductively and Le Gibet is eerily frightening with its sinisterly voiced chords, but Scarbo is where Grosvenor's individuality shines through most. I must confess that my first impression was less than enthusiastic – I was startled by the breakneck speed and seemingly inconsistent phrasing – but as I listened again, I sensed that the pianist was tuning more into the chaotic, wild nature of the creature depicted in the poem that inspired the work than using the work as an opportunity to show off his technical prowess. The sudden surges and shifts are more frightening than in any version I've heard, and yet there is beauty and attention in the tone, phrasing, and nuances that are evidence that Grosvenor's conception is hardly as haphazard as the quixotic music and random outbursts might lead one to conclude. This, said one pianist for whom I played the recording, is a reading that is individual without being self-absorbed or going against the composer's intentions.
The playing on this disc is some of the best you will hear of these works and bears repeated listening – indeed, it demands it. It is the kind of playing that makes it difficult to multi-task, so magnetic is its pull. If Grosvenor continues to produce CDs of this calibre, he will not only be expressing his uniquely formed talents, he will be doing a great service to the art of music and the memory of the composers who sought to communicate their message.
This CD is currently available only in the UK and can be ordered on Amazon here