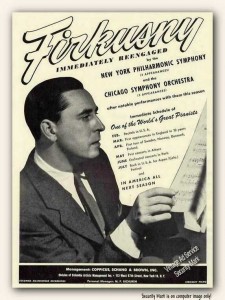 Rudolf Firkušný had the air of a warm-hearted diplomat. His elegant demeanour and refined presence came through both his playing and his interactions with the people in his life. The Czech pianist studied with the composers Suk and Janáček in his native land, and with the great pianists Alfred Cortot and Artur Schnabel, a combination which helped him fuse his love for the music of his country and European classics with an aristocratic and noble air.
As a pianist he had a wide repertoire that ranged from Mozart, Beethoven and Schubert through to the more Romantic Chopin and Brahms, and into the 20th Century with Debussy and as far forward as Barber. And yet more of his fame was due to his dedicated diligence in promoting the music of his Czech compatriots Smetana, Dvořák, Janáček (whose complete piano works he recorded), and Martinů (who wrote a number of works for him).
In his performances of music from his native land, he fuses impeccable charm and brio with his masterful technique to bring to life some lovely vignettes, as in this performance of Smetana's Czech Dance No.10, "Skočná".
But while artists could be in danger of being typecast as a performer of music from their country, Firkušný was recognized as a distinguished performer of the standard repertoire as well. His resonant piano tone, probing rhythmic pulse, and peaked phrasing brought everything under his fingers to life. His 1959 recording of Chopin's Piano Sonata in B Minor, Op.58 reveals these qualities in his playing, with a strong sense of line and inner momentum.
Firkušný was remarkably human. As a teacher in New York (he had escaped there from Europe in 1940 and stayed there for the rest of his life), he exuded warmth and true concern for the well-being of his students. Sara Davis Buechner states that he was a "warm, encouraging mentor with a beautiful smile and gentle laugh" who was the epitome of aristocracy. "He was as affable and charming in person as he was commandingly noble on stage." In his lessons, Buechner recalls, "he spoke to me in a relaxed manner as a colleague and that elevated our dialogue to the highest and most important level."
This level of respect and connection in his personal life seems to have extended to the connection he forged with his listeners and with the composers whose music he played. Never does he appear to play a note that is less than important, and yet nothing sounds cold or academic, his tone always being beautifully burnished and his phrases as impeccably presented as he was in person. Later in life he played with a level of conviction and precision that belied his age. This 1980 concert recording of Schubert's Klavierstücke D.946 is brimming over with an inner propulsion that never interferes with the lyrical phrasing, beautiful tone, and architectural and harmonic structure.
For all the distinguished nobility that Firkušný brought to the concert platform, his down-to-earth humanity was ever-present – he apparently had a fondness of Burger King Whoppers. In 1990, at the age of 78, he appeared in a Nike TV commercial with David Robinson in which he clearly excelled at piano and not at basketball. His rationale for his good-natured appearance? "I think it was good that for once serious music was put together with sports. Music needs all kinds of encouragement."
In the hands of Rudolf Firkušný, music was indeed encouraged. His performances seem to have been propelled by an inner force such that they never seemed externally driven, giving phrasing a suppleness and enabling him to maintain a full-bodied tone. He was a favourite with audiences and critics alike. Alas, upon his death his name seemed to fade, and there is now a younger generation who seems less aware of his legacy. It is to be hoped that an enterprising producer will reissue his recordings (EMI had a Firkušný Edition in the 1990s) to help give his artistry the recognition it so clearly deserves.