It is a sad truth that there are many great pianists who never had the career that their artistry warranted. For some it was management, for others luck, and yet for others, there is the sad reality of medical issues.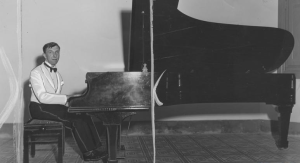 The great Polish pianist Mieczysław Münz was one such pianist. A pupil of Leschetitzky's assistant (and wife) Annette Essipova, Münz would go on to be part of Busoni's inner circle. He created a strong impression in Berlin at the age of 20 when he played three concerted works in one evening (the Liszt E-Flat, the Brahms D Minor, and Franck's Symphonic Variations). Shortly after his New York debut two years later, he decided to move to the US. A particularly memorable experience came in 1925 when Münz decided to attend Ethel Leginska's recital at Carnegie Hall: when by 9pm she had not shown up, he offered to play instead and received multiple ovations for his "precision, grace and flexibility."
Münz was in demand as a teacher. Josef Hofmann brought him to Curtis, and over the course of several decades he also taught in Cincinnati, New York, Baltimore, and Tokyo.
Alas, his career as a pianist would be more limited. In the early 1940s, focal dystonia in his right hand forced him to abandon playing.
There are very few recorded examples of his playing – he made far more piano rolls than disc recordings, and never recorded a large scale work in the studio. There is some silent film footage of him playing in 1929 that is fascinating to watch:
Yet while he would not play much for the last 30+ years of his life, he clearly was a magnificent performer and in demand. This October 17, 1940 concert performance of Mozart's Piano Concerto No.20 in D Minor K.466 with Frank Black conducting the NBC Symphony Orchestra is a case in point: Münz was the first pianist invited for the inaugural series of concerts dedicated to the concerto repertoire (as per the announcer's preamble before the concert). His playing is marvellous, and we can appreciate Münz's wonderfully clear sonority, precise and even articulation, transparent voicing, and beautiful singing line. It is worth noting that Münz plays the Hummel cadenzas in the first and last movements, in addition to a Hummel Eingang at 1:42 in the finale.
The performance which follows may have been Münz's final public appearance: a December 8, 1941 concert performance of Rachmaninoff's Rhapsody on a Theme of Paganini with the National Orchestral Association conducted by Leon Barzin. Münz's style is different than the modern view of Romanticism, with a more chaste rubato and strongly defined line than one might hear today in works that often receive overly sentimental readings, yet there is plenty of emotion expressed through his tonal and dynamic shadings (notice how the two go hand-in-hand), as well as through his soaring phrasing.
While it is tragic that such a great pianist was silenced due to medical issues, his influence as a teacher was profound. He had a great number of successful students across the globe, among them Emanuel Ax, Felicja Blumenthal, Sara Davis Buechner, Rinaldo Reyes, and Ann Schein. Ax stated that "For me, simply no other teacher was necessary." Sara Davis Buechner is effusive in her praise of Münz, having studied with him just over a year until his death in 1976: "I rather adored that man – he was the Dad I didn't have enough time to get to know. Phenomenal musician and teacher. He gave off quite a Buddhistic aura, too, like he knew everything."
Buechner describes Münz's exercises (learned from Busoni) to make anything at the keyboard possible ('magic tricks'): "He was a great proponent of rhythmic variants as thorough technical practice and training. Such exercises made the practicing of a two-minute Chopin etude take up to 2 hours, to go through thoroughly. And you understood that to master such a piece, you'd work on those rhythmic variants every day. That kind of slow, detailed work puts your mind into a Buddhistic zone of concentration, but it trains the fingers remarkably and the results are powerful. You can hear the easeful fluency in Münz's playing… The point for me, as a pianist, is that when I faithfully executed Münz's many technical exercises, I felt wholly secure at the piano, with the freedom to just interpret without even thinking about technical demands, on stage." She describes his playing during lessons: "The tone just opened up and swallowed the room in velvet sonorities. The sound of his gigantic paws roaring out the finale of Chopin's Third Sonata — my God, that was an orchestra. He made it all look easy."
A man who led a difficult life – his wife leaving him for Artur Rubinstein, losing family in the Holocaust, and having his performing career end due to hand problems – Münz nevertheless relished his teaching and his students, as demonstrated, appreciated him tremendously. He is an artist whose name deserves to be remembered… and pronounced properly. To which end, an excerpt from the Florence Times Daily, Florence, Alabama USA, December 5, 1940:
It is not necessary to sneeze when you pronounce the name of Mieczyslaw Münz, the celebrated Polish pianist, who will appear at the Sheffield High School Auditorium at 8:15 o'clock tonight under the auspices of the Muscle Shoals Cooperative Concert Association. The pianist assures everyone that it is quite easy. The last name is pronounced "Mince," like the well-known pie. The first name (it is the name of a Polish national hero, by the way) does offer some difficulty to American tongues, but this too becomes simpler upon analysis. "Mee-aich-chis-laff," accented on the second syllable.
During the first visit of Münz to America — several years ago — one of his admirers who had mastered both pronounciations, was so carried away by the brilliant Münz art — and name, that he addressed his letter to the "Variations" column of the Musical Courier:
"Dear Variations:
I will not Münz matters, but come to the point at once. Mieczyslaw was soloist with the orchestra today, playing the difficult Liszt Piano Concerto in A major. It was pie for the boy — Münz pie. The most astonishing piece of Münzstrelsy heard in the state of Münz-sota in some time or I am greatly Münztaken."
The Polish pianist, who knows English very well, took pen in hand:
"In spite of beseechings and hints
That plays upon words make me wince,
My friends take my name
And make puns on the same.
"Woe is me!" cried Mieczyslaw Münz."