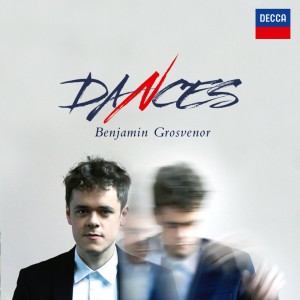 Benjamin Grosvenor's new album 'Dances' launches on August 4, 2014 in the UK and a few weeks later in North America. I am delighted to have had the opportunity to write the booklet notes for this CD, which features a wonderful array of piano music inspired by various dance forms, from Bach through to Morton Gould. The program:
Bach, Johann Sebastian
Partita No. 4, BWV828
1 I. Overture
2 II. Allemande
3 III. Courante
4 IV. Aria
5 V. Sarabande
6 VI. Menuet
7 VII. Gigue
Chopin, Frédéric
Andante spianato et grande polonaise brillante in E-flat major, Op. 22
8 I. Andante spianato in G major
9 II. Grande polonaise brillante in E-flat major
Chopin, Frédéric
10 Polonaise no.5 in F sharp Minor Op. 44
Scriabin, Alexander
Ten Mazurkas Op. 3
11 No. 6
12 No.4
13 No.9
Scriabin, Alexander
14 Valse in Ab major Op. 38
Granados, Enrique
Valses Poeticos
15 Preludio: Vivace molto
16 I. Melodioso
17 II.Tempo de Vals noble
18 III. Tempo de Vals lento
19 IV. Allegro humoristico
20 V. Allegretto (elegante)
21 VI. Quasi ad libitum (sentimental)
22 VII. Vivo
23 VIII. Presto
Schulz-Evler, Adolf
24 Concert Arabesques on themes by Johann Strauss, "By The Beautiful Blue Danube"
Albeniz, Isaac arr. Godowsky, Leopold
25 Tango, Op.165, No.2
Gould, Morton
26 Boogie Woogie Etude
Decca have kindly agreed to allow subscribers to The Piano Files an exclusive sneak preview of the album with a free download of a digital bonus track. Grosvenor recorded more music than can fit on a conventional 80-minute CD, so there are a couple of bonus tracks available for download if purchasing a deluxe edition of the album on iTunes (after the release date). Subscribers to this page are offered a free mp3 download of Grosvenor's thrilling reading of Liszt's 'Gnomenreigen'. You can listen here:
If you go to the link below, you can sign up for a Benjamin Grosvenor mailing list in order to receive a download link to the track (you can unsubscribe after the first email and you don't need to opt in to the other newsletters on the page):
Enjoy the recording, and do check out the album – brilliant piano playing of a wide range of repertoire!