Benno Moiseiwitsch was an aristocratic pianist : he had flair. Despite his poker-faced demeanour at the keyboard, he brought warmth, elegance, and beauty of colour to his interpretations. Born in 1890 in Odessa, Benno always had a dry disposition and modest character, as exemplified by a conversation one morning over breakfast when his parents asked their nine-year-old son who had won the prestigious Rubinstein Prize at the Imperial School of Music the previous day. "I did," the young lad replied, his mouth full of egg.
Moiseiwitsch emigrated to England and toured all over the world, eventually becoming friends with his exiled compatriot Sergei Rachmaninoff. The two hit it off, bonding over a shared understanding of one of Rachmaninoff's compositions, as Moiseiwitsch recounts in this interview later in his life:
Moiseiwitsch's mastery of Rachminoff's idiom is evident from the wonderful recording he made of this work in 1940, with a beautiful tonal range that included a brooding bass and rich singing treble, an uncanny ability to balance voicing between hands, and an unusual melting effect he creates that adds even more melancholy to his performance:
Fortunately, Moiseiwitsch made many recordings, and they are being issued systematically on the Naxos label for incredibly reasonable prices and in the best possible sound. One of the most famous – and justly so – is his performance of Rachmaninoff's transcription for piano of the 'Scherzo' from Mendelssohn's 'A Midsummer Night's Dream.' It is a treacherous work that requires phenomenal fingerwork to play successfully. In the early days of recording, choosing what work to record was subject to many conditions, not least of which was what other performances had been issued on other labels. Because Rachmaninoff had already recorded the work on RCA, Moiseiwitsch's label HMV (the UK sister-label to RCA) was reluctant to record a performance that would compete with the composer's own. One day, at the end of a recording session, the producer informed Moiseiwitsch that he'd completed his session with some time left on the clock and suggested recording a short work to keep on reserve. The pianist, being quite tired, didn't particularly want to play anything else – and he'd already started putting the collar back on his shirt (as one did in the day) – so he suggested the Rachmaninoff Mendelssohn arrangement, thinking the producer would refuse. The producer called his bluff and accepted on condition that Benno make only one take – thinking of course that the pianist couldn't do it and so they wouldn't have to issue the recording. (In those days, works were recorded in one 5-minute segment, unedited. Rachmaninoff made at least six takes of the work in his sessions to produce a version that satisfied him.) The pianist no doubt smirked at the challenge, sat down, and made the most flawless recording of his career: a resonant tone even in soft passages, remarkably even fingerwork, and incredible consistency of articulation and speed. It is considered better than the composer's own performance and Benno himself stated that he thought it was his greatest recording.
Moiseiwitsch's demeanour at the piano was one of immovable certainty. We live today in an age of exaggerated showmanship, where many less cultivated pianists believe that they must show their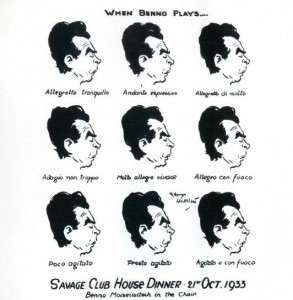 emotions rather than convey them through their playing. This illustration of Moiseiwitsch shows the extent to which his controlled appearance was well-known, showing the same facial expression for 9 different tempo markings in a piece of music.
A treasure of recorded pianism comes in the form of a 1954 BBC broadcast, fortunately preserved and finally released on DVD (though as an appendix to a disc devoted to another artist). The work is the treacherous Liszt arrangement of Wagner's Tannhauser Overture, a work so challenging that the composer himself used to take a break midway through. The performance here is shot with one camera that zooms in slowly over the course of the 15 minutes, and one can watch in amazement as the 64-year-old Moiseiwitsch overcomes the considerable technical hurdles of the piece without a single grimace. While it may not be note-perfect by today's standards, one will not find a performance today that has this level of tonal range, grandeur, and abandon (and every commercial recording you hear will be made up of multiple edits sliced together). Never an unnecessary movement (some of the more dramatic arm drops are for tone production) – pure economy of gesture, but a full emotional range! And at the end, a farewell message that demonstrates his suave character. A gentleman and aristocrat.