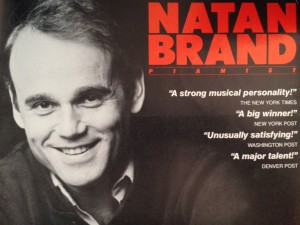 The Israeli-American pianist Natan Brand was one of the most fiery of pianists, a towering talent with a mercurial temperament that fuelled his impassioned conceptions. When he died in 1990 at the age of 46, he was known to a handful of musicians. In 1992, the APR label released a two-CD set of concert performances that garnered some rave reviews but which sold poorly, and in 2004, the label Palexa issued some of the same performances along with some other live recordings, and Brand's name started to spread more. As the internet became more of a music-sharing resource, Brand became known to a wider audience than he had had in his lifetime.
What struck most listeners was Brand's magnificent interpretations of Schumann. In particular, the complex Kreisleriana receives perhaps its most boldly inspired readings in the hands of Brand, with soaring phrasing, a glorious palette of tonal colours, and a simply massive sonority. Leonard Bernstein had heard the pianist play it at Tanglewood and proclaimed that Brand played it better than Horowitz. Years later when they met again, Bernstein immediately remembered Brand and his passionate playing. (It is worth noting that Horowitz had no greater fan than Brand, who would slide birthday cards and Christmas greetings under the legendary pianist's door every year – Horowitz wrote back very cordial messages. The two never met.)
The released 1983 concert recording is indeed one of the most amazing performances of the work one could hope to hear:
On a trip to New York City in July 2014, I had the opportunity to visit Brand's widow Lori, who was delighted to know that Brand's name and interpretations are still known and admired. I was curious what other performances of this great pianist might exist, having heard from the producers of both the APR and Palexa sets that there was more and having obtained a few odd recordings here and there. As we chatted, Lori said, "I had all the videotapes of Natan transferred. Would you like to see some?" My jaw dropped – why had I not thought about the existence of filmed performances? Of course I wanted to see them!
We looked through a few of the videos, some of which were filmed practice sessions and lessons, but there were some live performances as well – the quality was not terrific overall, but of course the opportunity to see this pianist in action was worth it (I'm used to listening to ancient recordings, so I didn't mind at all). Lori hoped that some of these could be shared with a wider public but wasn't proficient at how to do it on YouTube. I offered to help and she was happy to share the videos with me. After my lunch appointment that day (and before my flight back home that evening), I returned armed with a portable hard drive and copied the bulk of the films.
Among the treasures therein are two that I believed were the top priority to share as soon as possible. The first is a filmed performance of the entire Kreisleriana (minus a few measures), a different concert performance from the one that was released on both APR and Palexa (some film footage of what appears to be that reading does exist, but it is incomplete). The original footage was quite dark and murky, and YouTube gave the options of brightening it somewhat, which creates a rather surreal colour palette that is not inconsistent with the otherworldly nature of Brand's playing, but the benefit of seeing more of his hands and pedalling makes it worthwhile. Like commercially released recording, this performance is overflowing with passion:
The visual and audio quality of the next video are both infinitely better, and the contents will be of particular interest to Brand fans, as this features a composition of which no recording by the pianist is known to exist: Schumann's Carnaval. This film is of a practice session in an auditorium in which Brand reads through most of the work, and there are some terrific shots of his hands. It is remarkable to see how he can bring such power into a single finger to produce such an enormous sound without ever sacrificing the quality of tone or the legato line (his reading of the 'Chopin' section just after the 14-minute mark is divine). It is most unfortunate that his reading of the entire work was not filmed (and we're looking into whether there is a complete audio recording of Brand playing it). Nevertheless, what follows here is a treat both for admirers of Brand and all fans of great Romantic piano playing:
These are some highlights of what is a more extensive archive of Brand performances than has been publicly available. Stay tuned to this website and our Facebook page for more Natan Brand videos and for other news related to his recordings and future CD releases as we seek to preserve and share the legacy of this unique musician.